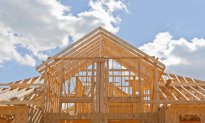 5 Things to Look for When Hiring a Custom Home Builder
With spring right around the corner, what better way to get a fresh start than building a new home? While you may be considering investing in a home for your future, you may be anxious about where to begin. Building a new home is a significant long-term investment. With so much information out there, it's important to understand all aspects of the project to ensure its success along the way.
Since you'll be working with several contractors over the course of several months, you must have open lines of communication and trust. After all, this is your new home! There are many aspects of the building process that need to be considered.
1. When to hire a custom home builder
It is best to hire a builder at the early stage of the design process so the team can be there at the beginning to help monitor and control the project schedule and budget. Both a builder and designer can work together to leverage their collective knowledge to make sure the home meets your expectations. A custom home requires you to define a clear budget. Determine how the builder will be compensated up front. While there can be unexpected issues that arise during the home building process, the last thing you would want is to be blindsided by the cost.
2. What to look for in a custom home builder
A qualified home builder should have the time, financial resources, expertise, communication skills, organizational skills, and the prior experience needed to build your home. The builder should understand what is important to you. Items include the layout of your home, amenities, and cost. Determine if the builder is someone you can work with for an extended period. You need to feel that the builder is someone you can trust and has your best interest in mind.
When interviewing potential builders, be sure to review their current resume of projects, success with projects of the same scale, how they communicate, customer references, and general project management skills. Discuss how they like to run the project and what their specialties include.
3. Research prior work
Look for a builder that has built the type of home that you are looking to build so they can tailor their skills to your needs. You can research the builder's prior work by looking at their website, contacting customer referrals, and speaking with the builder directly. When conducting your research, make sure all potential candidates are up-to-date on any new technologies that you are looking to include in your home such as Wi-Fi, new appliances, energy saving technology, and security systems, just to name a few.
Initial research should also include finding out how past projects went, from start to finish. Even if a builder has completed the type of work in the past that you are looking to do, you want to make sure that there were no significant issues or constraints that caused past projects to be significantly delayed or over budget.
4. Get multiple estimates
As discussed earlier, working with your builder will be a huge time commitment. Not only do you want to find someone that has good communication and organizational skills, but you also want to find someone who will work with you to meet your budget. Interviewing multiple builders will help you find one that you can trust and develop a strong relationship with. It's also important to gather multiple estimates so you can compare what each builder will charge for your project.
5. How to find a custom home builder
One of the first places to start when you are in search of a builder is with an internet search. It's easy to locate builders in your area with a few clicks of the mouse. Reputable builders will also have reviews available from past clients. The builder's website will provide an overview of their style of work and the locations that they build in.
Local lenders can provide information on builders and share insight into their project history. Also, Realtors are a great source for building referrals since they work directly in the custom home market.
Reach out to family and friends for referrals. If you find a builder or contractor that someone you know has used, it increases the builder's credibility and likelihood that they can be trusted.
Lastly, your chapter of the National Association of Home Builders is a good reference as well.
If you're thinking of building a home, you will need to consult a professional, licensed building contractor to make sure that your dream comes true. Our site is designed to put you in touch with a qualified, local contractor who can meet all of your needs. When you're ready to build your new home, finding a contractor is easy with Fast Contractor Leads.