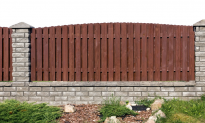 Benefits of Having a Fence
Do you have a pet? Do you have children? Do you enjoy privacy? If you answered yes to one or more of these questions, chances are that getting a fence installed in your yard will be beneficial.
As a pet owner, it is always upsetting when your pet gets loose. When letting your pet outside, it is much easier just to open your back door and let your pet roam free without having to worry about it running off. A fence will give your pet more leisure time and is also convenient for you. You won't have to worry about neighborhood pets roaming around your yard as well - especially if they want to leave you a little surprise that you have to clean up.
A fence can provide boundaries for your neighbors as well as others in the neighborhood. Even if you like your neighbors, it is still nice to know the property line. Even if you are friendly with your neighbors, sometimes it's nice to enjoy a dinner or drinks outside in privacy. You don't want to be hosting a party and have it displayed to surrounding neighbors. There are also those typical teenagers that you'll find cutting through yards, but that won't be an issue when you get a fence installed. Privacy fences reduce noise coming from surrounding neighbors as well as break the wind if you live in an area that is windy.
If you have kids, particularly young ones, you will be able to let them run around the backyard without worrying about them running in the street or leaving the area. Having a fence can also give someone a piece-of-mind when worrying about intruders. There is nothing more satisfying than knowing that you are providing a safe environment for your children, pets, and home. Although this isn't the highest source of security, it does work as a barrier around your home. It will be less likely that someone will step onto your property if you have a fence, compared to someone without a fence.
Homeowners with pets and children, or just enjoy the privacy, will appreciate the perks of having a fence installed. Consider the numerous reasons why a fence is right for you and your family. There are so many types of fencing to choose from, depending on the reasons you want one installed. Do your research before consulting with a business on the installation of your new fence.