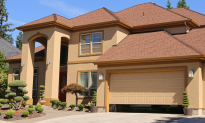 Choosing the Right Garage Door
When it comes to boosting the curb appeal of your home, installing a new garage door is a sound investment with minimal time required. A front-facing garage door takes up approximately 20 percent of the front of your house. A worn-out garage door with chipped paint or splintered wood is not only an eye-sore but can be a real liability. With a garage door being one of the most used items in your home, and one of the first things that people see, it's a no-brainer why any homeowner should want to invest in a newer, pristine garage door.
Types of Garage Doors
Garage doors come in four types: swing up, swing out, roll-up, or slide side-to-side. The main difference is that swing up, and side-to-side doors do not have contact with the ceiling. These are an excellent choice if you need to avoid the ceiling or if you like the unique look.
The most common type of garage door is the roll-up. The roll-up garage has tracks that go along the side of the garage and up onto the ceiling. Standard tracks require approximately 14 inches of headroom. Manufacturers also make low-headroom tracks and tracks for high walls or cathedral ceilings.
Garage Door Materials
Garage doors are made from a variety of materials. When purchasing a new garage door, consider the material that your house is built from so you can match it accordingly. If you have a detached garage, then you may have more flexibility to choose a different material since the garage is separated from your house.
A wood garage door allows you to easily customize the size. If the garage is next to a basketball hoop, the wood will stand up well to bumps and normal wear and tear. However, wood garage doors require frequent painting and refinishing, especially in damp climates.
Wood doors range in price and largely depend on how they are made. Wooden frames can be filled with foam insulation and wrapped in plywood, or the doors can be made of solid wood like mahogany, redwood, or cedar.
If you prefer a garage door that needs limited maintenance, steel may be the option for you. It is relatively inexpensive but tough. The downside is that steel rusts, so scratches need to be touched-up immediately. Steel may also dent.
Aluminum is a rust-proof option that works well for extra-wide double doors since it puts less strain on the operating mechanism.
Finding a local contractor to install your garage door is easy with Fast Contractor Leads.