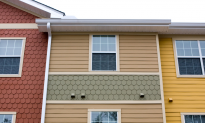 Choosing the Right Siding
Selecting the right type of siding for your house is about more than just aesthetics and curb appeal - siding is a crucial element in protecting your home from damage caused by weather, insects, and more, and the material you choose should factor in many variables.
Choosing the Right Type of Siding
While aluminum, vinyl and wood siding are the most popular choices among homeowners, a siding professional can help you compare those options with fiber cement and stucco options, giving you the best guidance and recommendations for your house.
They will not only help you evaluate the appearance of your siding options, but will also factor in the durability, maintenance, and efficiency in insulating your home, as well as the cost.
Vinyl siding has been the leading choice for many Americans for the past 20 years. Professional siding contractors should hang the rigid PVC to ensure that it contracts and expands as the temperatures change. Of all the siding types, vinyl siding offers a wide range of decorative elements - style, color and panel patterns. Some vinyl siding options include an insulated layer between the foam and your house.
Cedar siding, often made from Western Red or White Cedar, can be hung untreated, or can be painted or treated with stain or oil, and is often hung as panels or shingles. It comes in various shapes, like lap siding, bevel, traditional shakes or shingles, and more modern designs.
Fiber cement siding is available as boards, panels or shingles made from a mix of wood pulp and Portland cement, and is hung directly on your house. The design options have increased, and fiber cement siding can be stained or painted to give a traditional clapboard or shingle-style siding. Due to the similarities fiber cement siding and wood share, many historical districts have approved its use in home restorations.
Textured stucco, made of Portland cement, sand and water, not only enhances the aesthetics of your house but also provides a weatherproof barrier for the wall structure. Finished stucco siding can be smooth or textured, and requires a level of plastering skill often only found with experienced individuals. This is why reaching out to a professional is recommended.
Due to the nuances involved in hanging your siding choice, it's important to choose an experienced local siding contractor who has been screened and reviewed. Each recommended contractor has an in-depth knowledge of the best siding types to withstand your region's typical weather patterns. Ideally, they will warranty their product and provide you with a free estimate, helping you make the best decision for your budget and long-term siding goals.