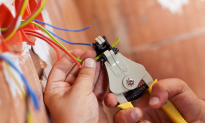 Finding the Right Professional Electrician
The complexity of your electrical system is pretty incredible. Hidden wires strung throughout your home connect to outside wires and wall plugs to create an electrical system that powers your life. You probably do not think much of your electric system when you turn on your lamp or listen to your refrigerator hum right along unless something goes wrong. Then, it can be time to worry about how this hidden system in your home is going to be fixed. Or maybe you are looking for some electrical upgrades, as you just don't have as many outlets as you'd like in your home or your wiring is old.
Some people take a DIY approach with many of the little things that go wrong in their home or are looking to make some upgrades. There is nothing wrong with doing these things yourself as long as you know what you are doing. The problem with taking this approach when dealing with electrical problems is they are often more complicated than you think, and when dealing with electricity, there is always the worry over the possibility of starting an electrical fire that could do a lot of damage to your home. This is where a good electrician can come into play.
A professional electrician will have the right training and tools to handle your electrical work in the best manner possible. They will have the up-to-date knowledge to tackle your issue, and should hold any applicable licenses for your area. Going through a reputable electrician also means that they will probably be licensed and bonded which can help your peace of mind in allowing them into your home to work. Another benefit that can come from a professional electrician handling your electrical work is that you should be able to get a warranty on the work that is being done just in case something happens to it in the future.
Finding an electrician may be one of the reasons why you may think you should just try to handle your electrical project yourself. You may worry about not being able to find an electrician that has the right skills set or that if you contact one, you will be unsure of how much they will charge in comparison to how much others in your area are charging. Fast Contractor Leads helps to eliminate this worry.
You submit your location and the job that needs to be done and wait for local contractors to get back to you with their free estimates on how much your project will cost. You can then compare these estimates and contractor profiles to see which one you should go with for your project. With one quick form, you have the information you need to make an educated decision on what contract to use on your electrical project.