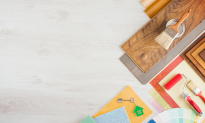 Picking the Right Flooring for Your House
Considering flooring lasts a fair amount of time, it is important to make sure you know and view all options. Whether you're looking to renovate your house for yourself or to sell, selecting the right flooring will impact the environment. Before getting into the types of flooring, consider these factors -- lifespan, budget, and the realistic factor. You want to pick a material that will be lasting you a decent amount of time, work with your bank account and also be a realistic design that won't clash with the room.
There are probably a dozen types of material to use for flooring, but the most popular are carpet, vinyl, hardwood, laminate, linoleum, and tile.
Carpet
Carpet gives your house a cozy and comfortable feel. There are many designs and colors when picking out your carpeting, so this is flexible to your decor and liking. For the most part, carpets are easy to maintain. You should vacuum regularly as well as a deep cleaning occasionally. The best rooms to install carpeting is in bedrooms, living rooms, and playrooms if you have children. Carpet is a good thermal and insulator and can be energy efficient. It's slip-resistant, comfortable on your feet and can help trap allergens.
Carpet is high-maintenance and doesn't last as long as other materials. These are some factors to consider before purchasing. Carpet usually ranges from $1-$10 per square foot.
Vinyl
Vinyl is inexpensive, low maintenance, and durable. Despite the price range of $1-$5 per square foot, vinyl has come a long way in the past years and is long-lasting and comes in various textures. Vinyl comes in sheets, planks, and tiles. To clean vinyl, you can sweep, dust or vacuum and mop if needed. It withstands water, and it doesn't easily dent, scratch or stain. It is suggestions to get vinyl installed in bathrooms or kitchens considering the moisture.
Hardwood
Going with hardwood floor is a very classic look and will add value to your house. The main issue with hardwood is that it can scratch easily. Hardwood flooring can come from oak, maple, and cherry, just to name a few. Hardwood is easy to decorate and work with considering the colors range from blond to black, depending on your color scheme. Hardwood typically costs anywhere from $3-$10 per square foot. To avoid scratches, it is best to select the hardest wood, such as red oak. Unlike vinyl, spills should to cleaned up immediately since damages aren't easy to repair.
Laminate
The good thing about laminate is there are no restrictions. You can get this material installed in any room without any issues. Laminate is durable and resists stains, fading, moisture, and scratches. Sweep or vacuum regularly, and occasionally wipe the surface with a damp mop and a mild cleaner to keep laminate in the best shape. Laminate is $1-$4 per square foot and can be installed in strips, planks, or squares, depending on the look you desire the most. You can also choose between gloss or matte finish and it can mimic wood or ceramic tiles.
Linoleum
Linoleum is an alternative to vinyl. It is extremely durable, withstanding heavy traffic and scratches, and lasts for decades. Linoleum comes in a wide variety of colors, from quiet neutrals to vibrant hues, and the color runs all the way through rather than being printed on the surface. Choose from sheets or tiles. Regularly sweep or vacuum this flooring, and re-apply finish every few months or yearly. Linoleum resists allergens and can be installed in any room. This material can range from $3-$6 per square foot.
Tile
Tile is versatile; it can look rustic, classic, or modern. Tile is crafted from ceramic, porcelain, or natural stone, each having their qualities. Tiles vary in texture and shades, and patterns and borders can be added for a decorative look. Grout is the adhesive that is used to fill the spaces between each tile. Grout can easily be stained so spills should be attended to immediately otherwise is can be swept, vacuumed, and mopped. Tile is one of the best options if you have pets because it is scratch resistant and does not absorb odor. Ceramic tiles cost between $1 and $8 per square foot and stone tiles run between $2 and $15 per square foot.
Choosing a flooring you love will depend on the durability, cost, style, and comfort. All of these factors should be considered when selecting your flooring. Pick a material that suits you and your family the best.