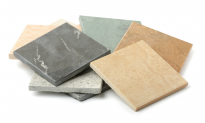 Why Your Countertops Should be Tile
If you want to remodel your kitchen, there are some things you may want to upgrade. From flooring to lighting, there are so many options from which to choose that it can get a bit overwhelming. However, one quick and easy way to upgrade your kitchen space is to install tile countertops.
This quick, easy and cost-effective material can turn a dull, boring kitchen into something exciting without having to remodel the entire area. There are many benefits of a tile countertop in your home, and to get the best results, you will want to use a contractor. Here's why your counters should be tile.
Variety
While granite or laminate countertops are great, the problem with them is that you are very limited in the designs and colors you can use. If you don't like the look of granite, for example, you can't exactly pick a different color or texture. With tile, however, you can do almost anything you want.
Since tile is so ubiquitous and relatively inexpensive, there are hundreds of colors and styles from which you can choose. Whether you want a monochrome look or a pattern with alternating colors, you can design your countertop as you want it. You can even install different sizes of tile to make your kitchen really pop.
Easy to Replace
Sometimes, accidents happen. If you break or damage your countertop, repairing it is super simple with tile. With other materials, such as stone, if there are chips or cracks, you may have to replace the whole slab, which will cost just as much as a new remodel.
However, with tile, you can just swap out the damaged piece without having to remove or replace any others on the counter. Similarly, if you really want to change the look of your countertop, you could also swap out multiple tiles to get a different color or pattern without changing the whole thing.
Cost Effective
Tile is everywhere. Whether they are made of stone or ceramic, you can find tile options anywhere you go, and the cost of installation is much cheaper than with other materials. Because of the abundance of material, turning your countertops into a tile surface will be one of the most cost-effective ways to remodel and upgrade your kitchen.
Environmentally Stable
In today's modern society, the environmental cost of civilization is more and more prevalent in our minds. If you are eco-conscious, tile can be a great option for you since many materials and styles are recycled. Unlike stone or synthetic materials (like laminate), tile has much less of an impact on the planet, making it one of the most eco-friendly choices out there.
Downsides
While it may seem like we're saying that tile is the absolute best option for your countertop, there are some disadvantages to this versatile material. While these drawbacks shouldn't be a dealbreaker for most people, it's important that you're aware of them, so you know what you're getting.
Cleaning
Wiping down tile surfaces is a breeze, but the issue comes from the grout between the tiles themselves. Depending on the size and placement of your tiles, the grout may be difficult to clean and could collect bacteria and food particles. Even with wide slabs, you will still have grout that will wear down much faster than the tile, and require resealing more often. There are three primary types of grout:
Sanded Cement Grout: This is the cheapest and most widely available option, but it is only recommended for joints that are ⅛ inch or wider. This material also needs to be sealed and resealed annually for best results.
Unsanded Cement Grout: This material is almost the same as Sanded Grout, but it is only recommended for tight joints that are less than an ⅛ of an inch. Unsanded Grout also needs to be resealed every year.
Fusion Pro Single Component Grout: This material is a bit more expensive, but it is worth it in the long run. It has the durability of cement, but will not stain and does not need to be resealed.
Hire a Contractor
If you are looking to install tile countertops, it may be tempting to do it yourself, but it is much better to hire a contractor. A contractor may have better options regarding prices and styles, and he or she will know the best way to install the tiles.
In some cases, you may be able to put tile over your current countertop, but this is not always an option. Similarly, your contractor will be able to cut and resize your tile as needed. If you do it yourself, you will have to get specialty size tiles for corners and edges, which will require extra time and cost on your part.
If you need to find a contractor in your area for tiling, click here to find a reputable, local contractor who can make sure that your remodel is a success.